Wangford Church - St Peter and St Paul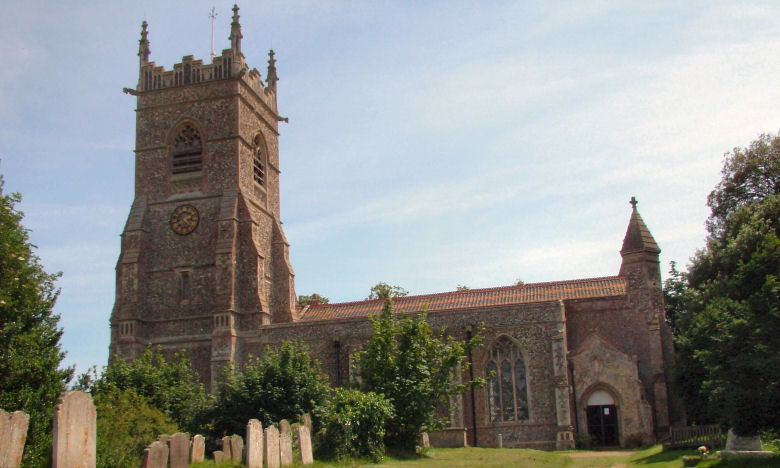 Foreword
by the Fourth Earl of Stradbroke 1903-1983
Here people have worshipped for 800 years, through eras of prosperity and of poverty, of high' and 'low' ritual, of husbandry and of neglect, of Reformation and reformation, of construction and reconstruction, this Parish Church of Wangford, which is dedicated to the Gate Keeper and to the Missionary, stands today as a place where people continue to worship as they did long ago and as they will for long years to come,
That is the spirit. The structure which embodies it is herein splendidly described by Mr. Roy Tricker of Felixstowe. To him all of us who love churches in general and Wangford Church in particular are most grateful for the trouble he has taken in compiling this history, which will evoke interest and sympathy alike, qualities he has so amply exemplified in his writing,
Stradbroke ... 30th March, 1982.
About the Church
Part of the Sole Bay Team Ministry. The Ministry was formed in 1999, bringing together 12 parishes in this beautiful part of north-east Suffolk. The historic churches of the Team range from large and splendid churches, as at Blythburgh and Southwold, to those that are smaller and intimate, as at Sotherton and Covehithe. They each have treasures of their own - including examples of contemporary Christian art.
These buildings have been places of prayer for many centuries and are all still open for regular worship.
Please contact the Reverend or Church Warden for current opening times.
On–road parking outside
Team Vicar: The Reverend Alan Perry. Telephone: (01502) 453 624
Churchwarden: Mr Mark Notton (01502) 578 691
The church is built on the remains of a Cluniac Priory and there has been continuous worship in this place for over 800 years. The building was extensively restored during the 1860's in the time of the 2nd Earl of Stradbroke, when the splendid crenellated tower was installed. The chancel includes some warm Italian marble and there are a number of interesting memorials including a magnificent lectern which commemorates the life of Admiral Henry Rous (1795-1877), often described as the 'father of modern horse racing'.
This Guide
The original version of the Guide was written by Roy Tricker, who gratefully acknowledged the encouragement and advice of 4th Earl of Stradbroke, Patron of the living; of the Vicar, Revd. Miles Copley and of Peter Northeast and Birkin Haward who supplied information. It was published in 1982.
This Online edition is a copy of the revised second edition, produced in 1991 by Vicky Fisher, under the supervision of Reverend Miles Copley and with the encouragement of Lady Penelope Gilbey Patron of the living.
Choose a page below to read more about the Church of St. Peter & St. Paul at Wangford.
[ History of the Church ] [ What to see Outside the Church ] [ What to see Inside the Church ]
[ Church Memorials ] [ The Lectern ] [ Other Points of Interest in the Church ] [ Estate Coach House ]