Other Points of Interest at the Church
The Church Organ
The church is fortunate in possessing a very fine organ, of unusual size and quality for a village church; If was built by J.W. Walker in 1880 and has two manuals and pedals. The instrument is operated by tracker action and has a resourceful variety of stops, including two mixtures, two 81 reeds on the Great and a 161 and two 81 reeds on the swell organ. In all there are 11 speaking stops on the Swell, 9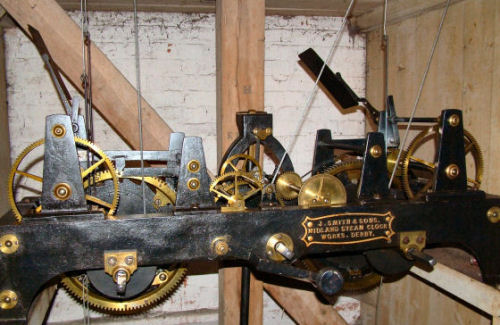 on the Great and 2 on the Pedal organs.
The organ was built in 1880 by J.W. Walker & Sons, of Soho, London. It is a very fine example of Walker's best work, having a purity and clarity of sound in the best tradition of English organ building. It was designed by Sir Frederick Ouseley, then orrganist of St Paul's Cathedral. It has 1,392 pipes and is a two manual instrument with 22 ranks of pipes. It works on a low wind pressure of 2k inches. The cost of building the organ was £648 7s. 11d (£35,000 in todays money). It was installed in 1880 under the personal supervision of George Walker, the senior partner in the firm.
In 1991, the organ was restored by Messrs, Rushworth & Dreaper, of Liverpool, great care being taken to retain its splendid sound.
Illumination
The Church is floodlit at night in memory of the fourth Earl and Countess of Stradbroke. An inaugural service of Dedication and Illumination was held on October 21st, 1990, when the lights were first switched on.
In the tower is a ring of five bells. The treble (1624) and the tenor (1625) were cast by the Brend family of Norwich. The third (1668) is by the Ipswich firm of John Darbie, the fourth (1721) by John Stephens of Norwich and the second (1863) by John ' n Warner & Sons, The tenor bell has a diameter of over 37 inches and weighs 91 cwt.
Amongst the church plate are a chalice and paten, inscribed with the date 1694 and "Wangford in Suffolk", also a chalice and paten by Granville, given in memory of Rev'd John Patrick by his son, Sir Paul.
The earliest registers of the church date back to the year 1660.
[ The Lectern ] [ Home ] [ History of the Church ]