Wangford Church Lectern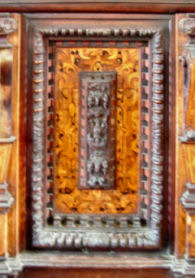 The lettering engraved around the base reads:
"To the Glory of God and in affectionate remembrance of Henry John Rous, Admiral, Born: Jan, 23rd 1795. Died: June 20th 1877."
Admiral Rous, second son of the first Earl of Stradbroke, was for several years Senior Steward of the Jockey Club, and is often described as the 'father' of modern horse racing.
Nave – west, by Gibbs and Howard,1887. In memory of John Cornwallis Rous, Earl of Stradbroke, died 1886. It shows scenes connected with the Temple at Jerusalem. Here we see Our Lord driving out the traders from the Temple, also the rebuilding of the temple and the carrying of the Ark of the Covenant into the Temple.
[ Church Memorials ] [ Home ] [ Other Points of Interest ]