The Memorials Of Wangford Church
Beneath the chancel arch, a panel inset in the wall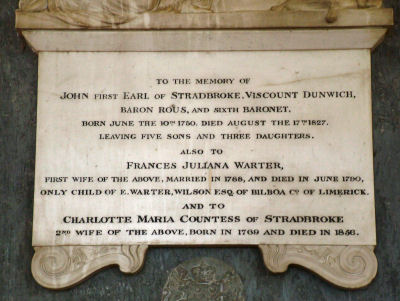 commemorates the 3rd Earl of Stradbroke (died 1947), with his wife Helena, in whose memory a processional cross was erected.
There are several memorials on the walls and floors of the church to people of the past who have loved and served it. The stained glass in the windows was also given in memory of people who were part of the life of this church and parish. Several people commemorated here were members of the Manorial family.
The Manor of Wangford was granted in 1540 to Thomas Howard, Duke of Norfolk, whose son sold it to Sir John Rous in 1612 and it has remained in the possession of the respected Suffolk family ever since. The Rous family received the honours of the Baronetage in 1660, the Peerage in 1796 and the title Viscount Dunwich and Earl of Stradbroke was conferred in 1821. They have contributed much towards this church, particularly towards its restoration in the 19th century, and they still take a leading part in the church and parish life.
Their residence was Henham Hall, which was a large mansion, designed by James Wyatt and built in 1793 to replace an Elizabethan mansion which was burned down some 20 years earlier. Although the stables and other outbuildings remain, the great house was demolished in 1953.
The memorials on the walls and floors of the church are as follows:
North Aisle - North Wall.
1. Wall tablet to Reginald Hammond (1752) and his daughter Eleanor Barker (1792). The inscription says of him,
"He was an affectionate husband, indulgent parent, sincere friend and discharged ye station of life he was long placed in with such exactness/ industry and integrity as justly entitled him to better".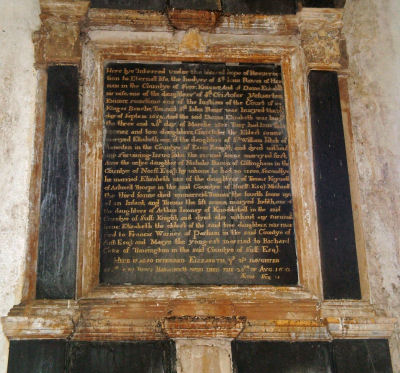 2. Fine wall monument with cherub beneath and coat of arms above/ to Sir John Rous (1652) and to Elizabeth/ his second daughter.

3. Wall monument with Latin inscription (by John Walsh Jr.) to Sir John Rous (1771) and Charlotte, his daughter. It is said that when the men were digging for the vault opening in readiness for Sir John's burial, a little girl saw something glittering by the side of a skull which had a considerable amount of hair remaining, and found it to be a diamond ear-ring.. This was sent to Henham Hall, but was given back to the girl by the Rous family as a reward for her honesty.

North Aisle - Floor.

1. South-west corner. Ledger slab to John Brame (1757).

2. East end. Ledger slab to William Kent (1703) of Lympsfield, Surrey.

3. East end. Slab with brass coat of arms and inscription to Christopher Rous (1635), son and heir of Sir John Rous.

"For his religion, learning and judgement he far exceeded his years"


He was 30 years old and his son, John, who died in 1634, aged one year, is buried with him.

North Aisle - South and West Walls.

1. Wall monument by W. Behnes, erected at a cost of 9300 to John, 1st Earl of Stradbroke and 6th Baronet (1827), also his two wives, Frances (1790) and Charlotte (1856).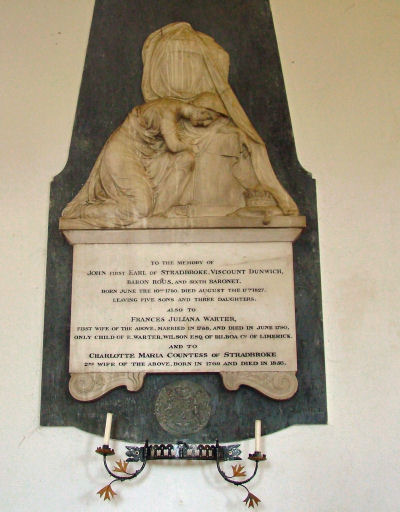 2. Brass plaque (1920) in memory of'two sisters, Harriet and Mary Chambers Cleveland. Their nieces subscribed to a fund in their memory, the interest from which was to be given to the sick and poor of the parish.

3. Superb wall monument, with cartouche and coat of arms above and three cherubs beneath, to John Rous (1730). The inscription gives many details about his family.

4. Wall monument, erected by the 3rd Earl of Stradbroke, to his sister, Hilda Mc.Neile. She lost her life attempting to save a child from drowning in the River Taw in 1904. The income from a fund in her memory was to be used to provide coal for poor parishioners of Henham and Wangford.

The stained glass in the windows is as follows:

East window, by Heaton, Butler and Bayne. The north and south lights show SS. Peter and Paul and the centre lights portray Dorcas, the woman of good works in the Book of Acts. It is in memory of Charlotte, the second wife of the first Earl of Stradbroke.

The Chancel

Chancel - south-west, By Gibbs, in memory of Frederick Charles Bonham, who died in 1863, aged 8 years. Here we see Our Lord at the feet of His Mother and Salome with her children.

Chancel - north-east. A window to the memory of Barbara Countess of Stradbroke (died 1977- was dedicated on Remembrance Day 1979. The engraved glass has since been removed, framed and brought into the Church. The engraving is by Sheila Elmhurst of Ipswich, and depicts a lady sewing and a little girl working at embroidery. It represents the Countess .

" surrounded and attended by what made life beautiful for her, as she made life beautiful by devoted kindness to all people "


. Some examples of her handiwork can be seen in the beautifully embroidered kneelers in the front benches of the nave.

The Nave

Nave - South, centre. In memory of Augusta, wife of John Cornwallis Rous7 Earl of Stradbroke, died 1901. This is an extremely fine window, in the style of the 15th century by the firm of Clayton and Bell, depicting the seven acts of mercy surrounding a central figure of "Caritas".

[ Inside the Church ] [ Home ] [ The Lectern ]